Through until June 2014, the Urgo Foundation is launching a call for projects on the theme of "Diabetic foot lesions: innovative initiatives and practices for the prevention or management of these wounds".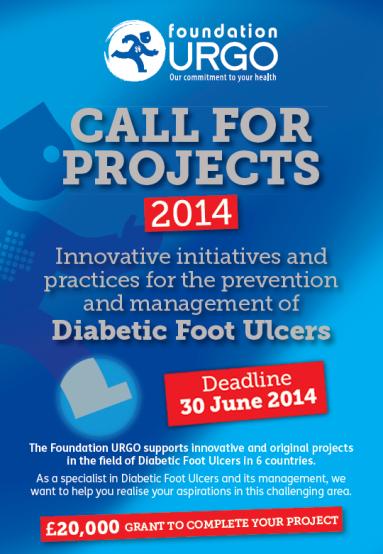 The countries concerned are:
The United Kingdom (Info on the UK website of Urgo Medical)

Spain (Info on the Urgo Foundation website)

Thailand (Info on the Urgo Foundation website)

China

Vietnam
The purpose of this call for projects is to reward the doctor, in collaboration with caregivers or a multidisciplinary team, who presents an original and innovative project designed to further the knowledge, definition and understanding of the various problems encountered in this complex disease which is diabetic foot:
Education about the pathology:
Infection management

Wound debridement

First-line dressing choice: recommendations, protocols, use.

Management of the patient and their wound
Services to optimise access to care:
Gathering of epidemiological data and better knowledge of healthcare networks
Patient:
Post-amputation physical therapy

Caregiver training
Winners of DFU awards in each country will receive funding to develop the project.
Please note: the call for projects in the UK was made official on 12 November 2013 at the 9th FDUK (Foot in Diabetes UK) Day in the context of the Wounds Annual Conference in the English city of Harrogate. 200 diabetic foot specialists attended the event.