The Dystrophic Epidermolysis Bullosa Research Association (DEBRA France) held its Annual General Meeting on Saturday 2 June. The association supports patients suffering from epidermolysis bullosa (EB) and their families. Within the context of the partnership with DEBRA France, the Urgo Foundation provides financial support for the REBECCA research programme aimed at establishing a register of skin cancers in EB patients.
DEBRA France's AGM brought together around 60 participants (patients and their families, and carers) to discuss issues surrounding EB management and patient care protocol. The most eminent EB specialists attended to present research advances, as well as real case studies relating, for example, to oral and dental care and wound treatment.
Highlights included the presentation given by Prof. Hovnanian on new bone marrow transplant treatment avenues in the United States and the testimony of Geoffrey, who suffers from a severe form of EB.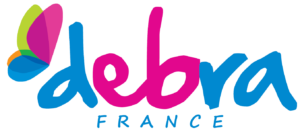 Plus d'informations : https://www.debra.fr