Health French Minister Agnès Buzyn meets children with epidermolysis bullosa, alongside the URGO Foundation, during a visit to Beijing Children's Hospital
As part of the state visit of French President, Emmanuel Macron, to China, the Minister of Solidarity and Health, Agnès Buzyn visited Beijing Children's Hospital. On this occasion, the Fondation URGO, the DEBRA China Association and the Hospital's Dermatology Department educated the French and Chinese delegations about a rare and severely debilitating genetic disorder: epidermolysis bullosa.
This disorder is expressed by the formation of blisters on the skin or mucous membranes. The skin becomes extremely fragile to the slightest friction and turns into a wound that cannot heal.
While there are no official figures in China, according to prevalence there could be over 30,000 children who carry one of the three forms of this disorder.
This meeting, in the presence of Agnès Buzyn and Pierre Moustial, Chairman of the Fondation URGO, involved discussions with nursing staff and children in the department specialised in dermatology in Beijing Children's Hospital.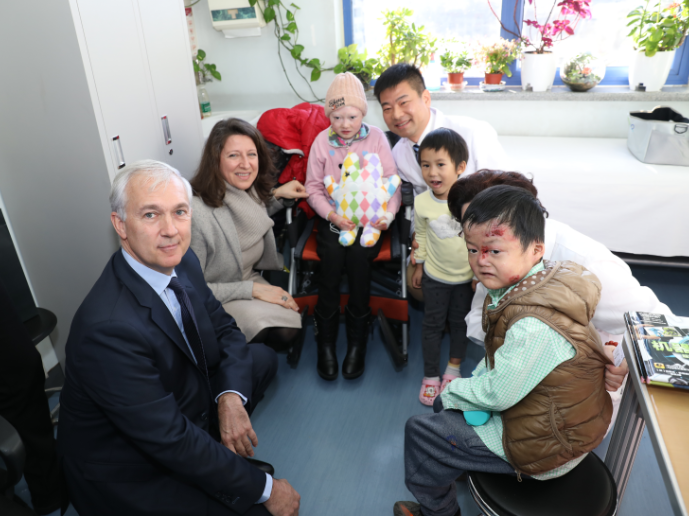 It was organised with support of the Fondation URGO, which has been particularly committed since its creation to fighting this rare genetic skin disorder, which affects numerous infant populations all over the world, and about which health professionals, authorities, and particularly the general public, still know too little. In September 2017 in Beijing, the Fondation URGO reaffirmed its collaboration with the DEBRA Chine Association, by signing a partnership which aims to carry out several awareness-raising initiatives in 2018: organisation of meetings for patients and their families in order to ensure better medical care, actions to train health professionals and treatment donations.
In the past three years, the Fondation URGO has helped over 550 children in China.